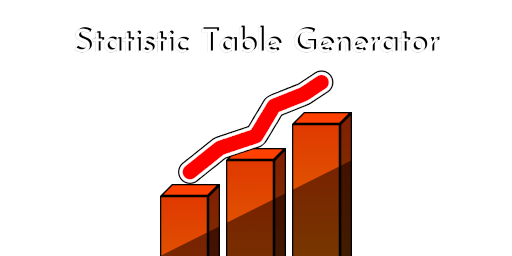 Statistic Table Generator
Are you making a game? Are you working on preparation of the good formula for specific statistic? Try now "Statistic Table Generator" intended for fast creating formulas manually written in Java.
Using this tool you're able to adjust desired values growth per level much more precisely. Type the formula into the text field using the special keywords, adjust details and after the while, the generator will prepare a ready table with the values for you! No more manual coding "for" loops!
The software supports also the formula view as a graphical chart of the function which you can freely edit by modifying size of the individual elements such as size of the grid or the text. You can also switch off these elements completely.
Moreover, there is a possibility to export data to the text file (table) or to the graphical file (chart). Have in front of you ready data of the given formula after one click of the mouse! The software supports two language versions: Polish and English.
FEATURES
two language versions

The software supports Polish and English languages switched alternately by the button on the top.

generating data using the arithmetic expression taken from the text field

Enter manually any text expression using the special keywords such as "sqr" (square of the expression given in parentheses) and modify your own formula as you like!

automatic creating the table view with the data

Just click the button after giving the flawless formula and the generator will create for you a full table with all the data with the ability to round a result. No more "for" loops!

ability to switch the view to the graph of the function

The table isn't enough for you? That's alright! After switching to the chart preview you'll see a graphical representation of the generated data which you can flexibly modify!

data export to the text and graphical files

Creating the graphical file (chart) and the text file (text) allows you to keep the results outside of the software! Select data type in what way format the table (traditionally or as an array in one of several programming languages), type the location and the name of the file and you'll see a ready file with data!
Software is based on freeware license and may be used for commercial and non-commercial purposes.
Download link: https://jasonxiii.pl/statistic-table-generator
Feel free to leave your rating and comment.
ATTENTION!
You can receive a message about potential viruses that exist inside of the installer. I can guarantee that no viruses or advertisements have been added to the process of the software installation. This file is safe to download and keep on your PC.
Copyright (C) Jason, 2020
All rights reserved.